Loading
In the conversation played to the hearings on Thursday, Mr Bollas takes issue with Transclean's poor cleaning of Melbourne's trains during the pandemic.
"The state is paying you more now, to do more work which you're not doing," Mr Bollas says on the phone call to Mr Haritos.
Mr Haritos responds: "I am."
Later, Mr Bollas says: "They didn't even f—ing spray the train."
Mr Haritos: "I know because they were satisfied, because the trains weren't sprayed … they were happy the state was spotless, and that's why they left. They went back to the job where they were."
Further on in the conversation, Mr Hartos says: "One was clean, they were clean."
Mr Bollas: "Doesn't matter, they have to be f—ing sprayed, you're not listening. We're paying you to f—ing spray them." He added: "You can come up with whatever f—ing excuse you want … "
Mr Bollas says if Mr Haritos was asked if he had performed his task, "the answer was f—ing no".
Loading
Mr Haritos responds: "I get the point Peter, but you've got to cover off, you've got to cover up for us as well."
Mr Bollas: "Are you f—ing taking the piss out of me? I've got to cover up, what do you think I do every day George?"
Mr Haritos: "I know you do."
Mr Bollas also reminded Mr Haritos that he was "helping you build a f—ing brand".
Mr Bollas said Metro paid Transclean more than $1 million a month during the COVID-19 pandemic, the inquiry heard.
IBAC has also heard that Mr Bollas tipped Transclean off about surprise audits and in a discussion with a Transclean associate arranged for documents that would have been problematic to be removed ahead of a surprise audit carried out during the pandemic.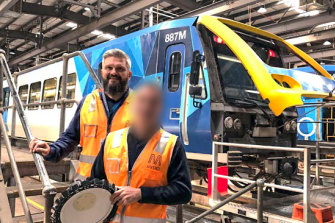 Mr Bollas told the inquiry he would suppress information that was unfavourable to Transclean from senior management and leaked financial information about Metro to the contractor, helping the supplier get an edge over other players.
Mr Bollas also said he was trying to help Transclean win the lucrative stations cleaning contract and potentially take a job at at the company in the future.
Mr Bollas said there was no "list of things" he had to perform on Transclean's behalf, but he generally tried to "help them out, make sure they don't get into trouble … any issues arose, help them with those, get them out of the way … to progress their business."
The hearing continues.
Get our Morning & Evening Edition newsletters
The most important news, analysis and insights delivered to your inbox at the start and end of each day. Sign up here.
Timna Jacks is Transport Reporter at The Age