Every property owner, from first home buyers who've just moved in to seasoned investors, has some equity in the properties they own. The amount of home equity you have depends on two factors: how much debt you have and the value of the property.
Home owners can make use of their home equity through different mortgage products, borrowing against the equity to fund investment property purchases, renovations, retirement costs and more.
What is home equity?
Equity is the value of your property minus any debts. It's the amount of the property you own and is expressed as a dollar value. Here's a simple example:
Your property is valued at $700,000.
You have $300,000 remaining on your home loan.
Equity. The property value minus debt = $400,000 in equity
Your home equity in this scenario is $400,000. Now of course, equity calculations are always hypothetical to some degree. The value of your property changes over time and you can't really know what it's worth until you sell it. And these quick calculations don't consider things like selling costs (real estate agent commissions, conveyancing fees).
But getting a professional property valuation can give you a fairly clear idea of the value.
Here's a simple visual explanation of the concept of home equity.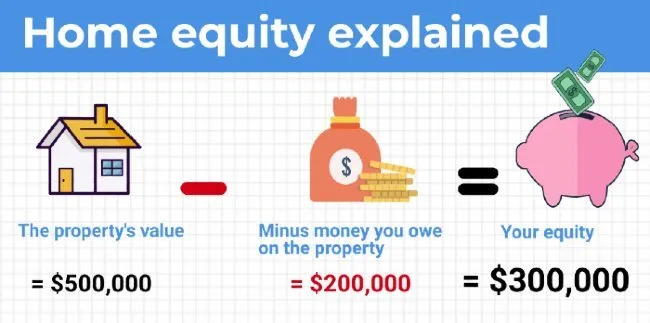 How do I calculate my home equity?
The calculation, as explained above, is simply the property value minus any debt on the home.
When estimating your equity, it is important to consider the current property value rather than the price you paid for it. If you bought a home five years ago for $650,000, in a rising property market, it could now be worth $700,000.
To get an accurate picture of your remaining debt, check your most recent home loan statement or log onto your lender's banking platform and check your loan account.
How do I access equity in my home?
There are several finance options property owners can use to unlock the equity in their homes, ranging from line of credit loans to home loan top-ups and, for older Australians, reverse mortgages.
Line of credit loan. A line of credit loan allows home owners to borrow money against the equity in their property. The lender approves a certain amount of money based on your equity and charges you interest based only on the money you actually spend. It's a flexible way of using some of your home equity. But keep in mind that interest rates on these loans are higher than regular mortgages. The more you spend, the less equity you will have.
Refinance. If you're currently paying off a mortgage, it's possible to switch to a new home loan with a new lender. This is called refinancing your home loan. You can do this to switch to a cheaper home loan with a lower interest rate. But when you switch, you can also use your home equity to borrow slightly more with the new home loan.
Home loan top-up. Instead of refinancing, you can stick with your existing loan and lender but apply for a home loan top-up. This means keeping the current loan but extending your borrowing limit slightly further.
Reverse mortgage. Australian home owners who are aged 60 or older can borrow some of their equity using a reverse mortgage. Interest is charged on what you borrow, and you repay the debt when you sell the property or die. This option can be used to fund your retirement costs, supplement your income or for anything else you need.
Need professional guidance on unlocking your equity? Chat to a broker.
How can I increase the equity in my home?
Home equity increases in several ways. Growth can be passive (if your property value grows over time in a rising market), but you may be able to add value to your property through renovation.
Repayments. As you pay off your home loan, you are adding to your home equity. If you started a home loan with a 20% deposit, you'd have a loan to value ratio of 80%. After five years of diligently repaying your loan, you could be at 70% LVR and 30% equity. Keep in mind this only works if you have been making principal and interest loan repayments. You can build your equity faster by making extra repayments.
Capital growth. Over time, property prices in Australia tend to grow. This is called capital growth. According to CoreLogic's Home Value Index, the median Sydney property value in September 2016 was $785,000. In September 2020, the Sydney median stood at $859,943. That's $74,943 in equity a median property would have gained over those four years. Of course, there are exceptions, and prices can fall over time too, so passive equity growth through capital growth is never guaranteed.
Renovations. Property owners can increase the value of their properties through renovation. Adding an extra room to a house, redoing a kitchen or bathroom or even just a fresh coat of paint can make your property more appealing to buyers, increasing its value.
What can I use home equity for?
Equity is your wealth and you are able to use it as you like. This includes financing major purchases such as cars or overseas holidays, home renovations or even the purchase of a second property.
Compare line of credit home equity loans